Sell Old & Unwanted Jewelry
Do you have old, broken, or unwanted diamond jewelry that you don't know what to do with? If you think your jewelry may be of value, bring it to the experts at Used Jewelry Buyer for an on the spot appraisal and cash offer. You may be surprised at the value of your items! We are interested in most jewelry pieces, including, but not limited to:
Diamonds weighing ½ carat and up
Bracelets
Earrings
Necklaces
Rings
Old European cut diamonds
All pre-owned diamond jewelry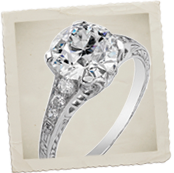 The experts at Used Jewelry Buyer are committed to offering you the highest price for your old and unwanted jewelry in the St. Louis area. The valuation process we employ is both communicative and straightforward, allowing you to be involved in the process and know the exact value of your jewelry before we extend a cash offer. Whether you're selling your jewelry for extra cash or liquidating an estate, we understand that selling jewelry is an emotional decision for many. With over 30 years of experience, Used Jewelry Buyer possesses the knowledge, experience, and honesty you're seeking from a jewelry buyer.
Information for Selling Jewelry
When you sell your jewelry to Used Jewelry Buyer, we want you to be as educated about the process as possible to enable a smooth transaction. Our cash offer will be based on multiple variables, including the color, cut, clarity, and carat weight of your diamond jewelry. You can obtain a head start in understanding the selling and buying process by visiting the following additional resources that address commonly asked questions and information regarding our mail-in service for those who don't reside in the St. Louis area.
Jewelry Gallery